Nutritional facts
Nutella® has an authentic taste of hazelnuts and cocoa and its unique creaminess intensifies the flavour. It is so delicious that even a small amount is highly satisfying: 15g/1 tbsp of Nutella® spread on bread is enough to guarantee an unbeatable taste and a pleasurable experience.

Nutrition Information
Serving per package:
Serving size: 15g
Per Serving

Per 100g

Energy
80kcal
539kcal
Protein
0.9g
6.0g
Fat
4.7g
31.6g
Carbohydrate
8.6g
57.6g
Sugars
8.5g
56.8g
Sodium
7mg
45mg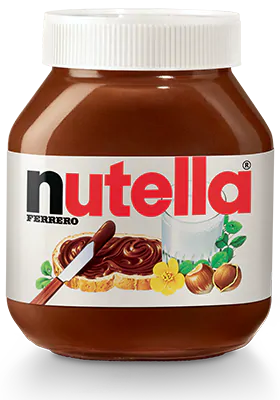 Ingredients
Sugar, vegetable fat (palm), hazelnuts (13%), fat reduced cocoa powder 7.4%, skimmed milk powder 6.6%, whey powder, emulsifier lecithin (soy), flavouring (vanillin).

ALLERGEN INFORMATION: Contains HAZELNUTS, MILK, SOY.
Products