Kings Day Bread with NUTELLA®
You never know when the King might stop by.
Also known as Rosca de Reyes, this traditional Spanish sweet bread is served for Three King's Day. Shaped in a wreath and served with NUTELLA® hazelnut spread, you've got a holiday table centrepiece fit for a king.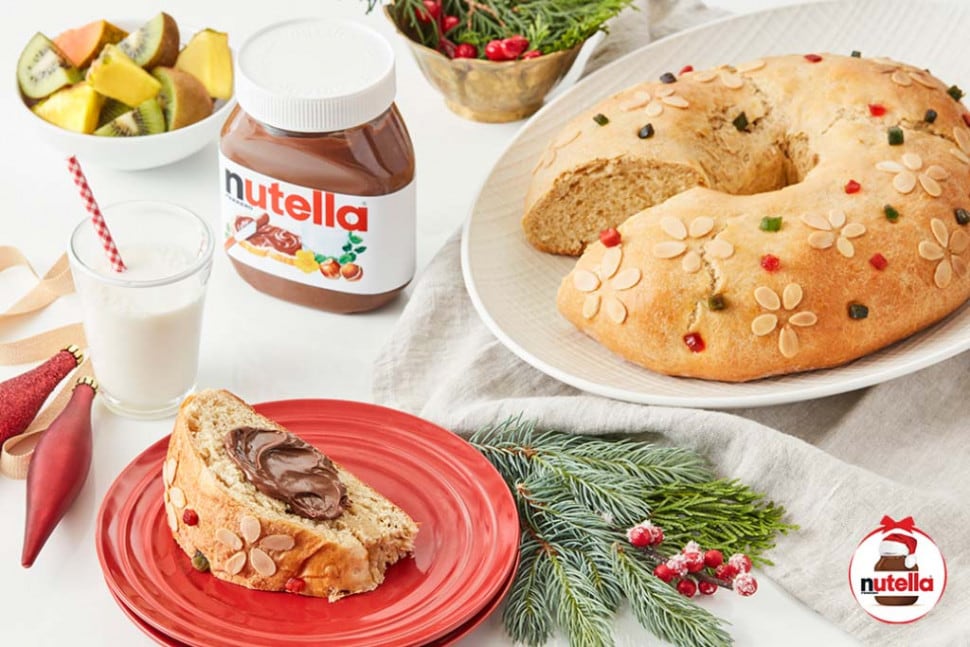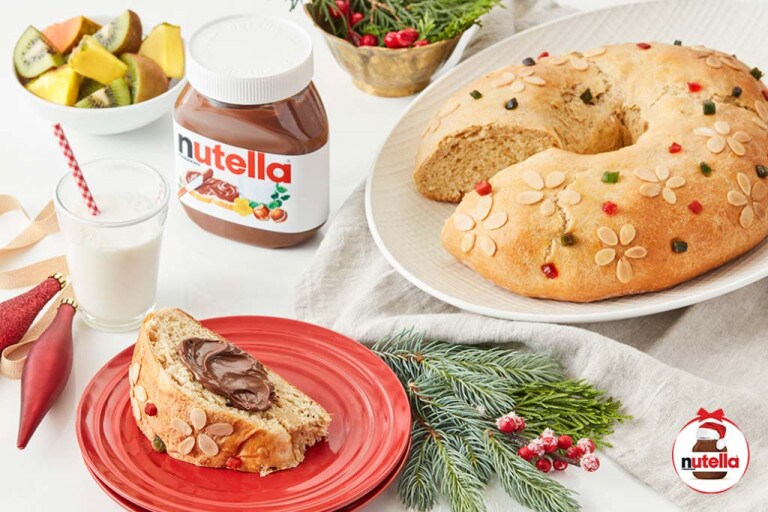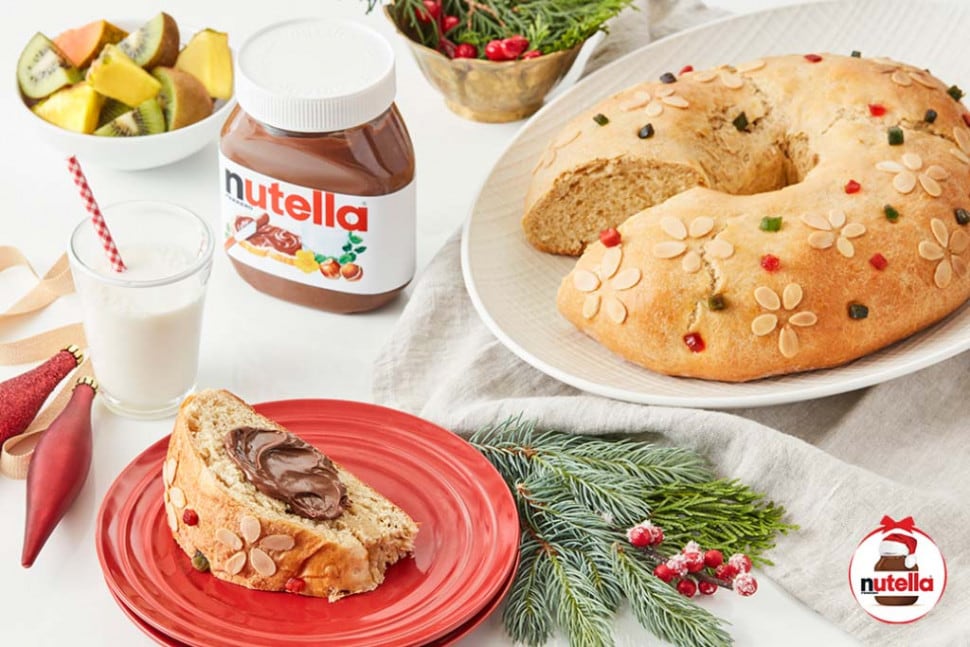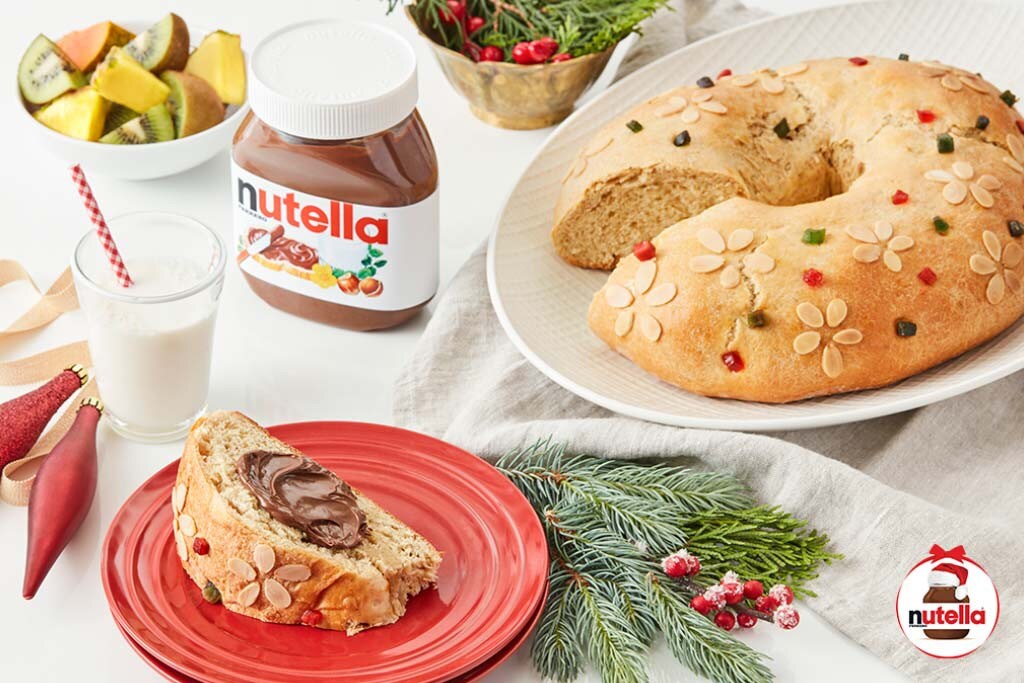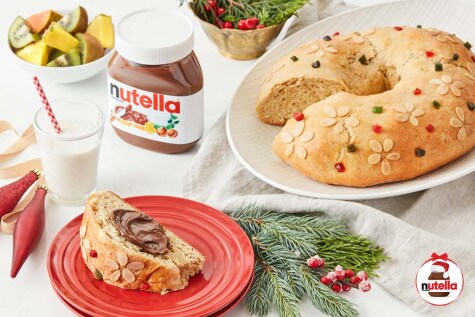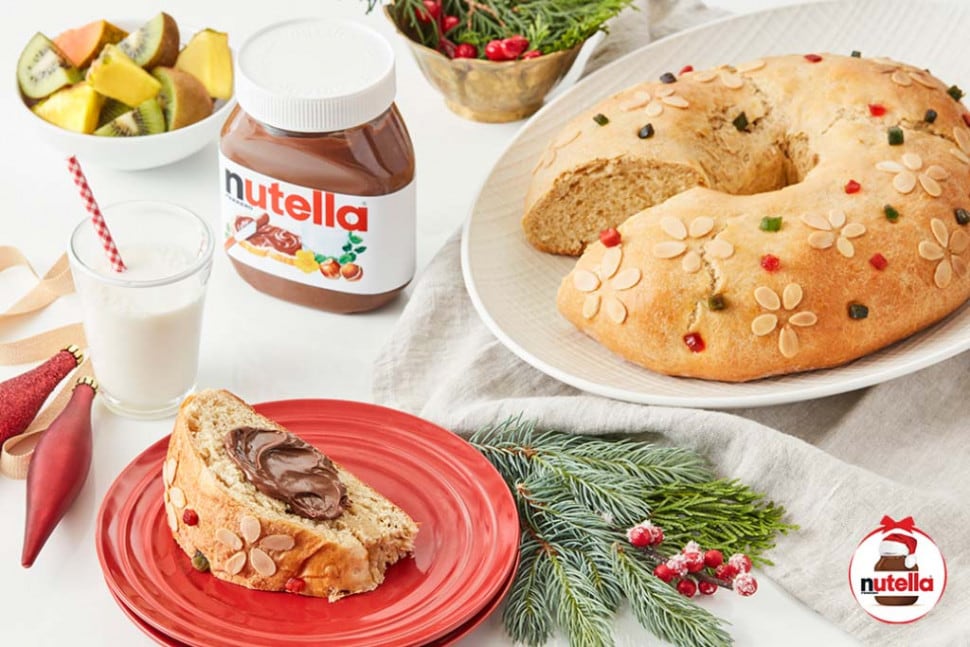 INGREDIENTS for 12 servings
1 tbsp active dry yeast

½ cup sugar

¼ cup warm water

4 cups flour

Zest of one large orange

1 tsp ground cinnamon

½ tsp salt

3 eggs

1 egg yolk

¼ cup salted butter, softened and cubed

¼ cup salted butter, softened and cubed

1 tbsp vanilla extract
To Decorate:
1 egg beaten with 1 tbsp water

Candied fruits

Sliced Almonds
METHOD
In a small bowl, mix the yeast with 1 tablespoon sugar and 1 tablespoon warm water. Let stand for 10 minutes.

In a large bowl (or stand mixer), combine flour, the rest of the sugar, orange zest, cinnamon and salt. Add eggs, butter, yeast mixture, milk and vanilla extract. Mix together with electric mixer fitted with dough hook or by hand until soft, smooth dough is formed.

Once dough has come together, turn it out onto a lightly floured surface and knead until it is smooth, soft, and slightly tacky (adding flour or milk as necessary.)

Shape the dough into a ball and place it into a large, clean, greased bowl.

Cover the bowl with a damp tea towel and place it in a warm, draft free place to rise until it has doubled, about 20 minutes.

Once the dough has risen, knock it back and shape it into a ball again.

Using your fingers, make a hole in the middle of the ball and gently enlarge the hole to give the bread an oval ring shape. Make the bread as large as the platter you plan to serve it on. (Roughly 12" in diameter.)

Place the oval ring of dough on a parchment lined baking sheet. Let it rise until doubled, about 30 minutes.

Near the end of the rising time, pre-heat oven to 350° F.

Once the dough has risen, brush the egg wash and decorate it with candied fruit, sliced almonds, as desired.

Bake the bread for 20 minutes, until lightly golden. Once done, remove the bread from the oven and let it cool before slicing and serving with Nutella® hazelnut spread, with a glass of milk and side of fruit.