Apple Pancake Bars
Soft and fluffy Apple Pancake Bars, made with Krusteaz® pancake mix, dusted with powdered sugar and topped with Nutella® Hazelnut Spread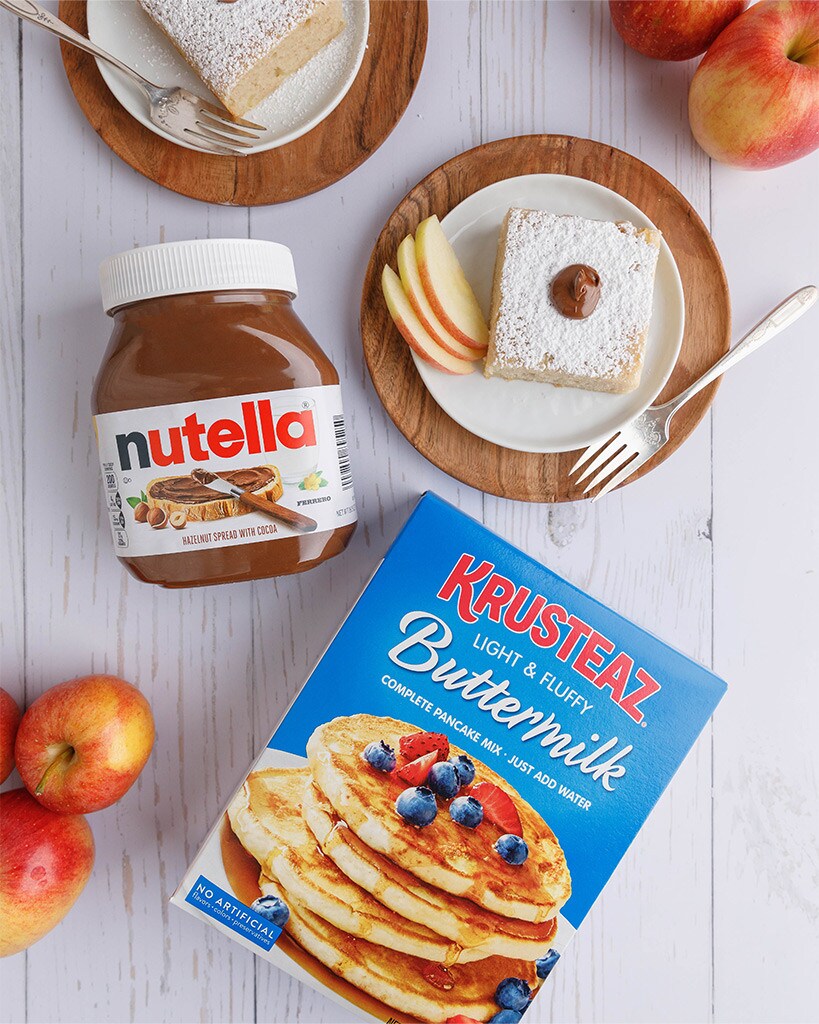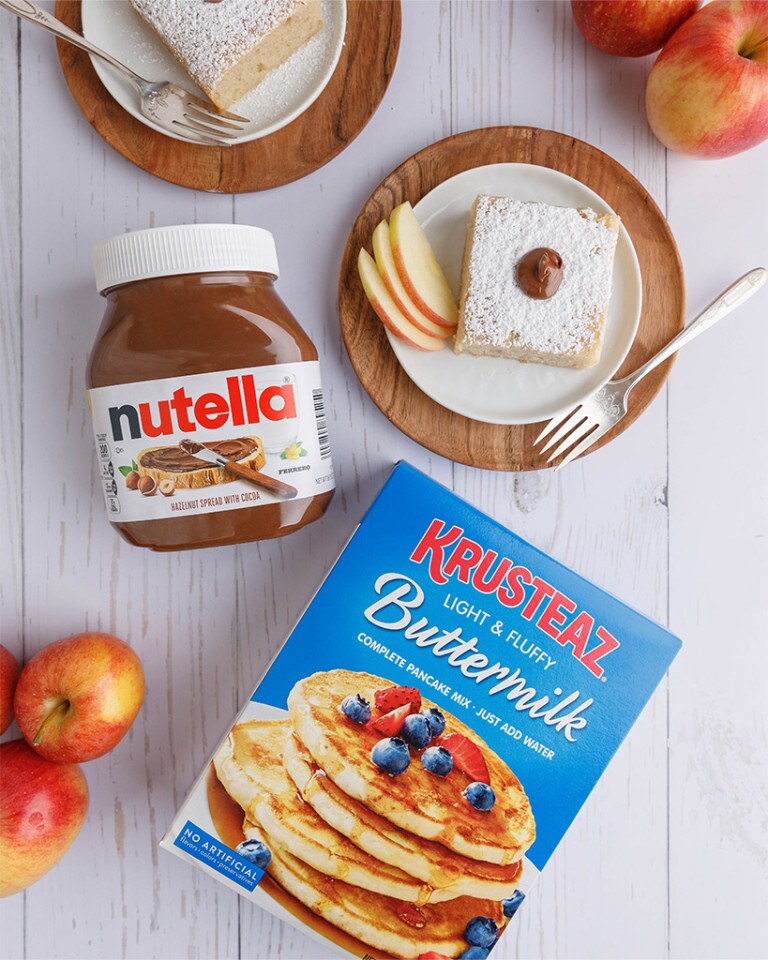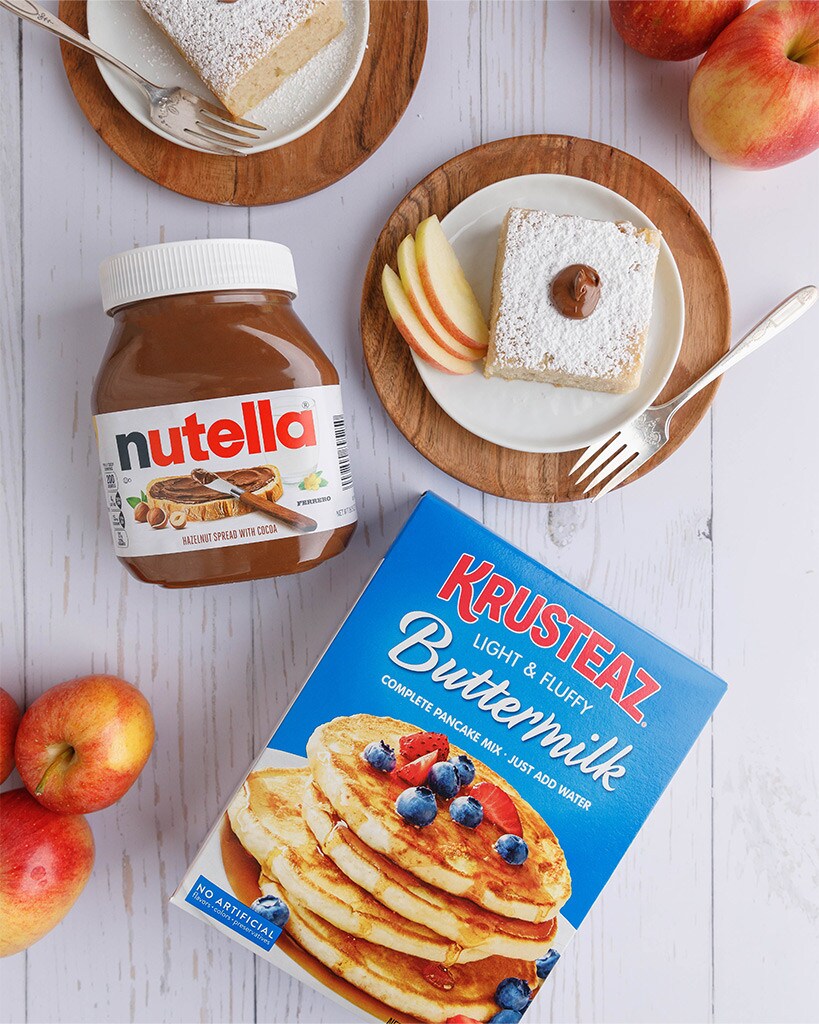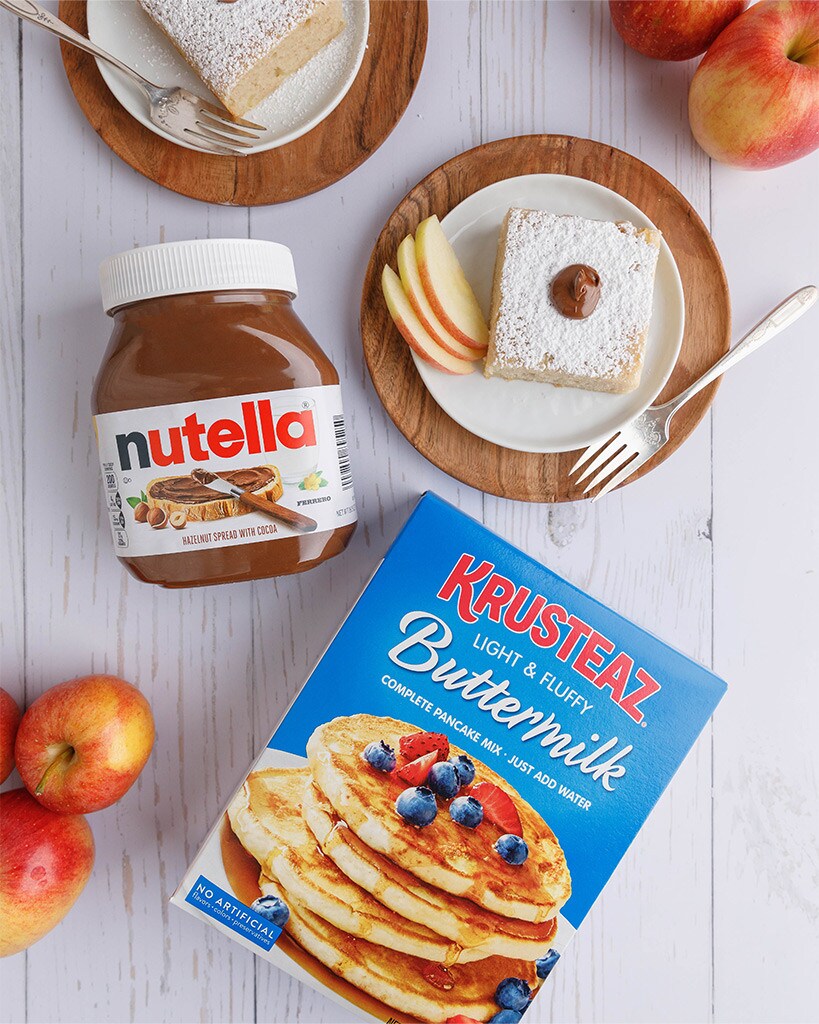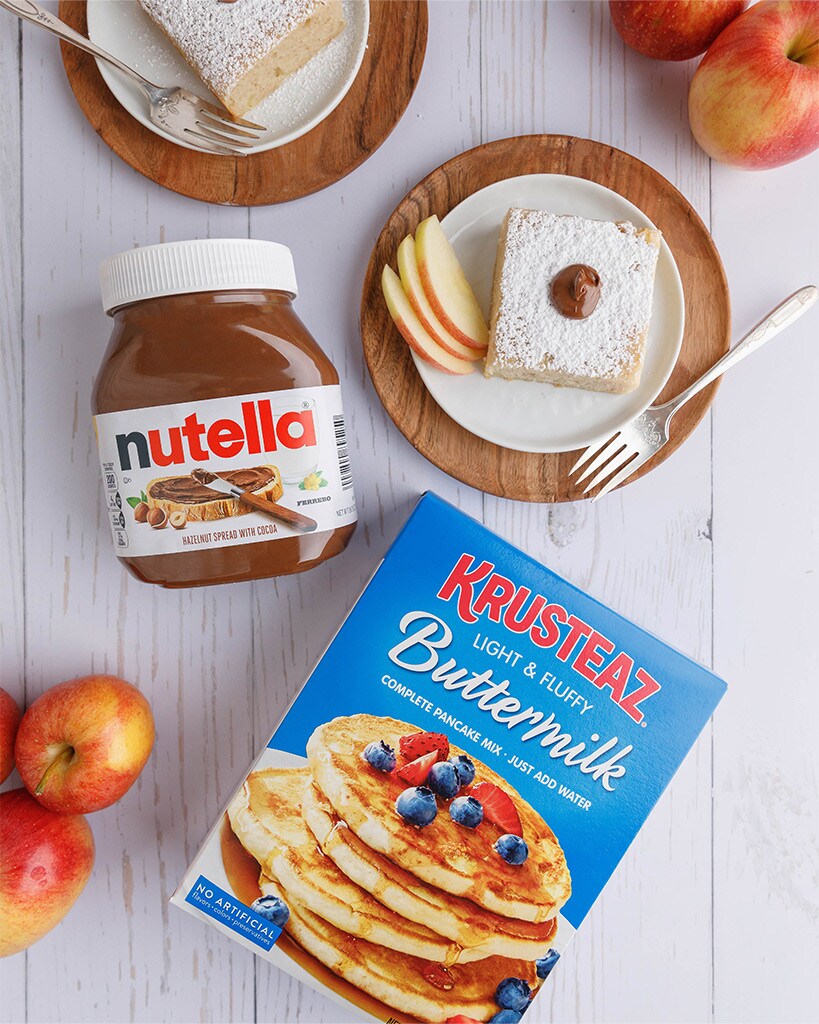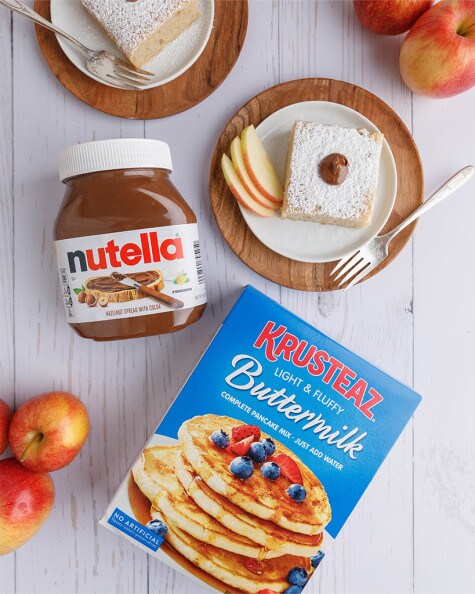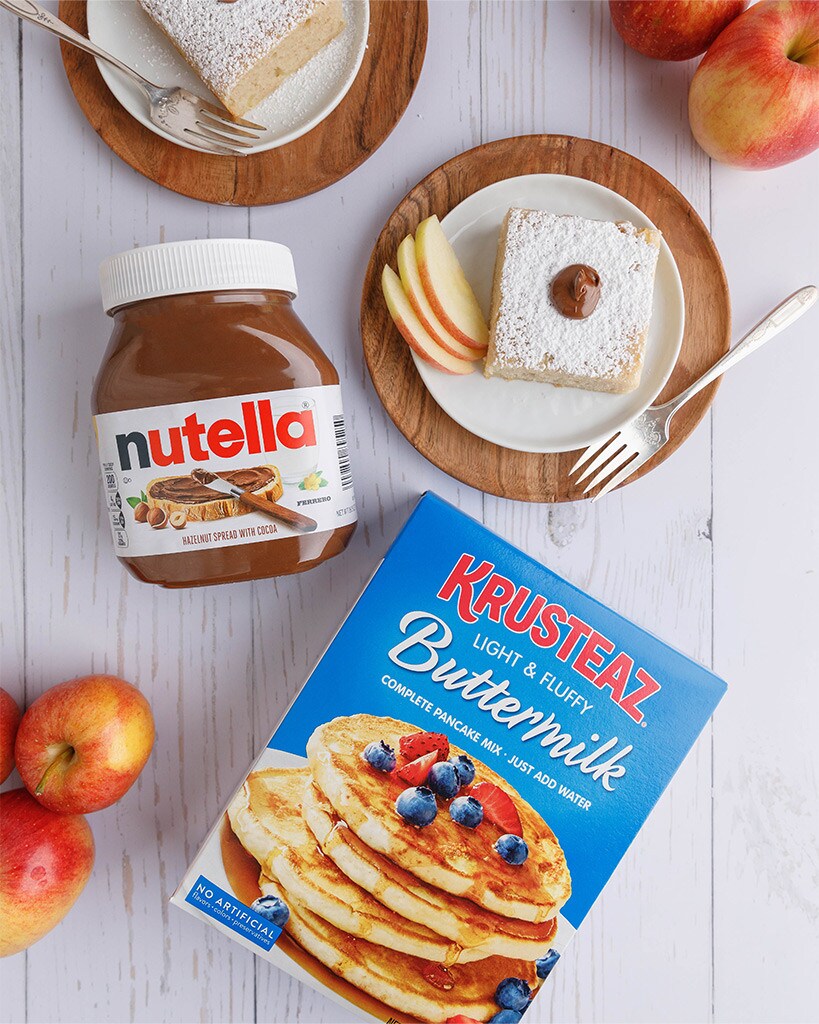 INGREDIENTS for 9 portions
Apple Bars
2 Cups Krusteaz® Buttermilk Pancake Mix
2 Tablespoons Brown sugar
1/4 Teaspoon Cinnamon ground
1/2 Cup Applesauce unsweetened
1/4 Cup Apple Peeled and diced into small pieces
Topping
4.5 Tablespoons Nutella® Hazelnut Spread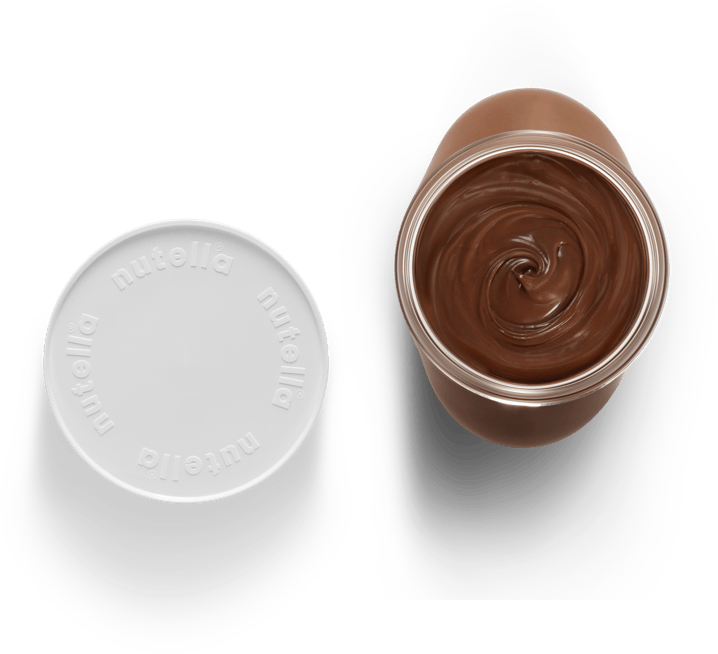 To prepare this delicious recipe, 1 tbsp of Nutella® per person is enough to enjoy!
METHOD
Heat oven to 375 F. Line the sides and bottom of a 9x9-inch baking pan with parchment paper.
In a medium bowl, stir the Krusteaz® pancake mix, brown sugar, cinnamon and nutmeg together. 2 Cups Krusteaz® Buttermilk Pancake Mix, 2 Tablespoons Brown sugar, 1/4 Teaspoon Cinnamon, 1 Pinch Nutmeg
Add water and applesauce and mix until just combined. Do not over-mix. 1 Cup Cold water, 1/2 Cup Applesauce
Fold in diced apples. Let batter stand 2 minutes. 1/4 Cup Apple
Spread batter evenly into prepared baking pan
Bake 20-25 minutes, or until a toothpick inserted into center comes out clean.
Cut into 9 bars, dust with powdered sugar and dollop 1/2 a tablespoon of Nutella® Hazelnut Spread on top of each bar. 1/8 Cup Powdered Sugar, 4.5 Tablespoons Nutella® Hazelnut Spread