Banana Crepes with Nutella® chocolate hazelnut spread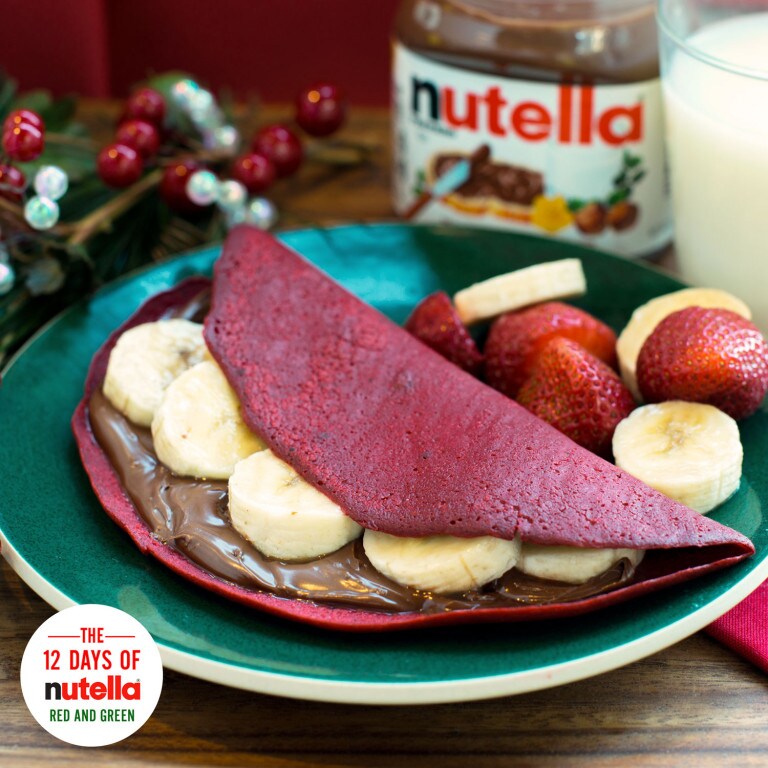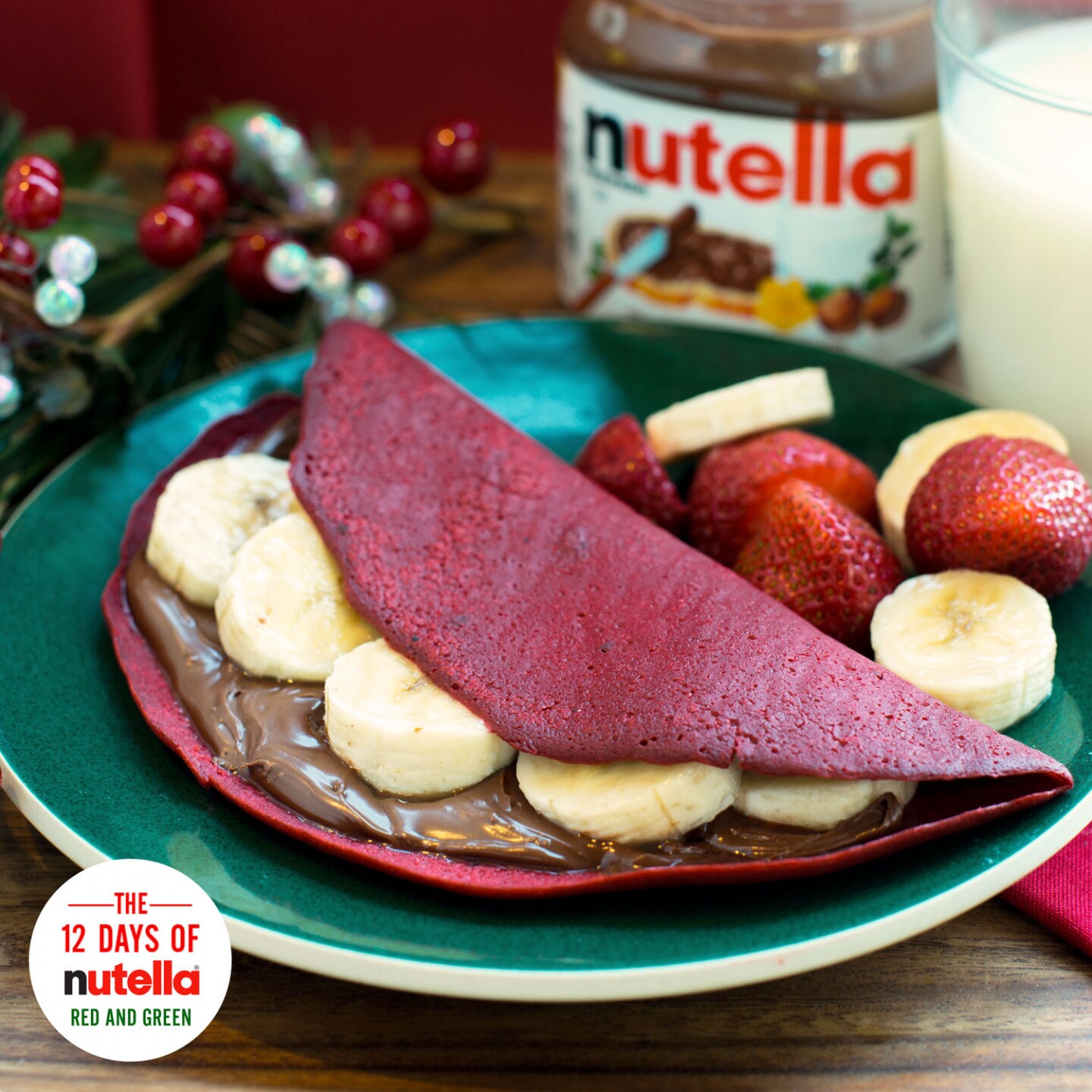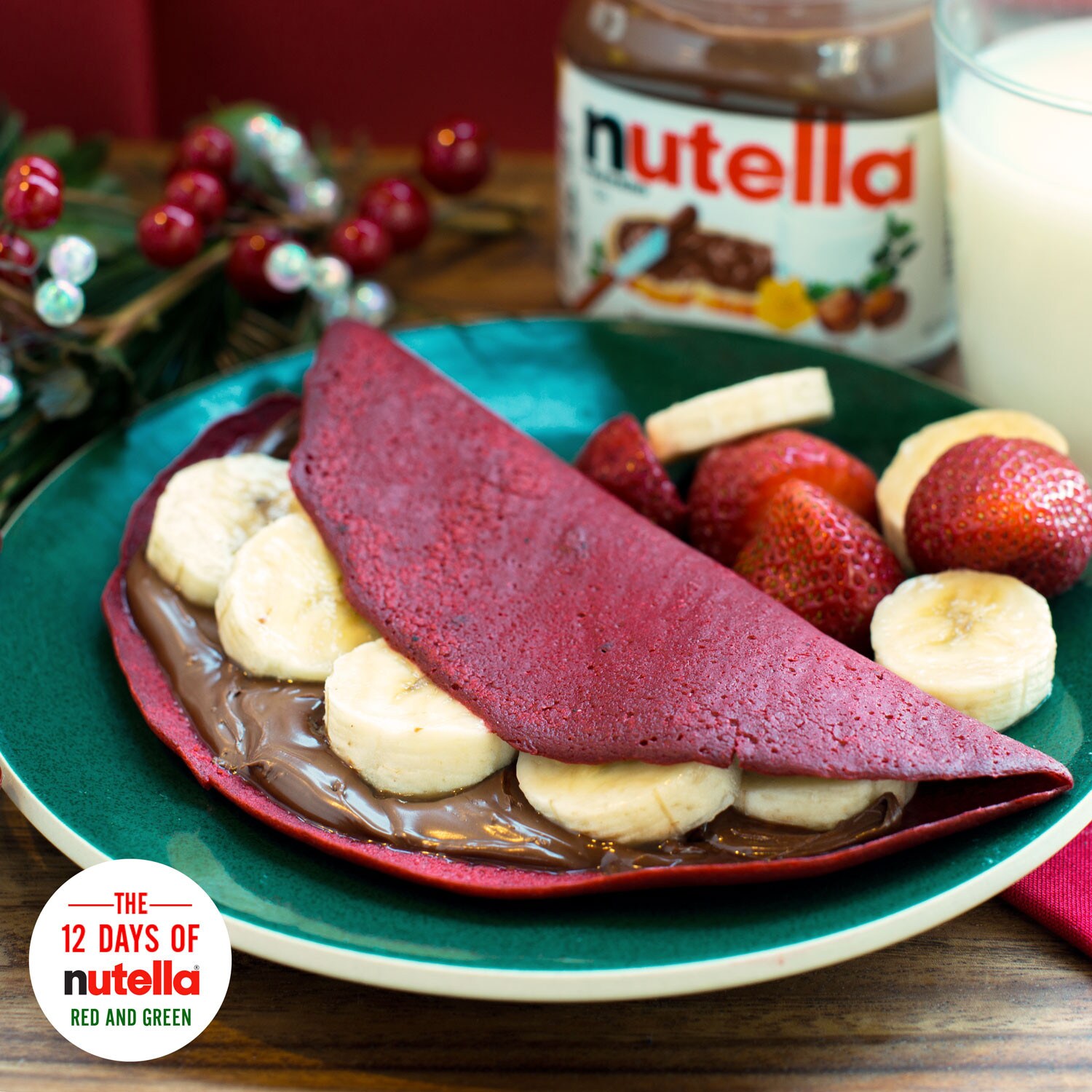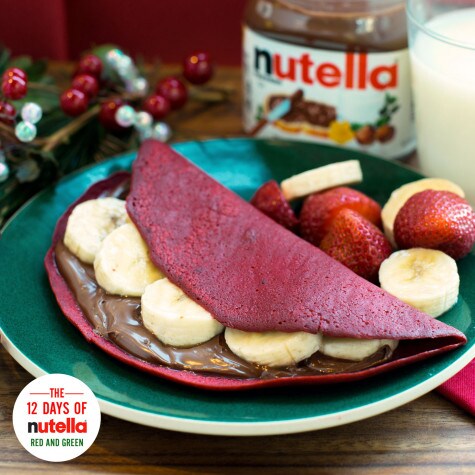 INGREDIENTS for 2 servings
1½ cups flour

1 teaspoon baking powder

½ teaspoon baking soda

¼ teaspoon salt

1½ tablespoons sifted cocoa powder

2 cups buttermilk

1¼ cups milk

1 large egg

1 teaspoon vanilla extract

3 tablespoons sugar

2 tablespoons red food coloring

2 tablespoons butter, melted

Cooking oil spray

1 banana

4 strawberries

30g Nutella® – 1 heaped tsp (15g per portion)
To prepare this delicious recipe, 15g of Nutella® per person is enough to enjoy!
METHOD
STEP 1

Mix flour, baking powder, baking soda, salt and cocoa in a bowl and set it aside.

STEP 2

Wisk together the buttermilk, milk, egg, vanilla, sugar, red food coloring and melted butter in a separate bowl. Combine wet and dry ingredients and stir until smooth.

STEP 3

Spray cooking oil spray in a medium frying pan.

STEP 4

Pour about 2 tablespoons of batter into the pan, tilting the pan as you pour, until the batter thinly coats the bottom of the pan.

STEP 5

Cook over a moderate heat for 30 seconds to one minute until golden brown on the underside.

STEP 6

Flip over the crepe with a spatula, and cook the other side until it is golden brown.

STEP 7

Slide the crepe out of the pan on to an oven-safe plate and put in oven to keep warm.

STEP 8

Spray the pan with cooking oil spray and cook the remaining crepes one at a time in the same way.

STEP 9

When ready to serve, spread 1 heaped tsp (15g) of Nutella® chocolate hazelnut spread on top of each crepe, top with sliced banana and strawberries, and fold.

STEP 10

Feeling the holiday spirit? Use a green serving plate and garnish with sliced strawberries and banana.